This year's pre-ceremony Angel Party will honor Mikki Shepard and take place at the gorgeous Rosenthal Pavilion inside NYU's Kimmel Center
Bessie Angel Party
October 9th at 5:30pm
NYU Kimmel Center
Join us as we honor Mikki Shepard, instrumental leader of The Apollo Theater (2006-2016) – home of The Bessie Awards for many years – as well as strong supporter of NYC's dance artists through her previous roles with 651 Arts, Brooklyn Academy of Music, and Mertz Gilmore Foundation, among others. Join Maurine Knighton to toast this year's Bessie-nominated artists, preview the awards, and enjoy special remarks from invited guests. We also salute guests of honor 2017 Lifetime Achievement Awardee Jawole Willa Jo Zollar and 2017 Outstanding Service to the Field of Dance Awardee Eva Yaa Asantewaa, honorary chair Allyson Green, Dean of NYU Tisch School of the Arts, and Linda Tarnay, former Chair of the Dance Department at Tisch School of the Arts.
Angel Party tickets include priority seating to the awards ceremony, held at NYU's Skirball Center for the Performing Arts immediately following the event.
Bessie Host Committee members: Isisara Bey and Monique Martin, Carol Bryce-Buchanan, *Cora Cahan, Sara Coffey, *Beverly D'Anne, Paul Engler, Olga Garay-English, Yvonne Levitt, *Jeanne Linnes, *Stanford Makishi, Virignia Milhiser, Ward Mintz, *Nicky Paraiso, Jane Penn, *Carla Peterson, *Tamia B. Santana, Janet Sarbaugh, Rena Shagan, William Terry, *Laurie Uprichard, *Martin Wechsler, Steven Wolff / AMS Planning & Research Corp, Jawole Zollar.
*Bessie Steering Committee member
The 2017 Bessie Awards Ceremony will take place
Monday, October 9th at 7:30pm at
NYU's Skirball Center for the Performing Arts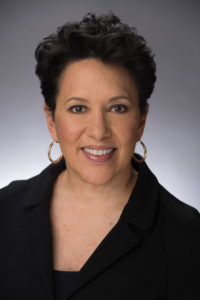 Mikki Shepard. Photo courtesy of The Apollo Theater.
Mikki Shepard has had a long career of carving out opportunities for artists, leveraging institutional support for new programs and productions, and being a powerful voice in support of innovative, unique performance endeavors. As Executive Producer of The Apollo Theater from 2009 – 2016, she built and implemented a new organizational and artistic vision for the institution. Mikki developed a 21st Century global program vision for the Apollo through the creation of large-scale productions and festivals, the revitalization of Amateur Night and its digital presence, and international tours of original Apollo productions such as James Brown: Get on the Good Foot, A Celebration in Dance . In addition to her tenure at the Apollo, her groundbreaking work at the Brooklyn Academy of Music and as founder and executive producer of 651Arts created new platforms for emerging and contemporary artists throughout the African Diaspora, the development of new work, honored unsung African American heroes of dance and jazz, in particular, and encouraged presenter colleagues and funders to support their work. At 651 Arts, she initiated Africa Exchange – a major international initiative supporting new work collaborations between U.S. based and artists from African countries. At BAM, she served as the producer of major dance festivals, such as DanceAfrica and Dance Black America. Placing this work in a larger historical and cultural context to inform and build the knowledge of each institution's audience was a critical component of each presentation, time and time again revealing her continued commitment to the power in amplifying the voices of artists through the support of an institutional platform.