We are thrilled to announce that performance artist/entertainer Shernita Anderson and American Ballet Theatre principal dancer and pop/dance artist James Whiteside will co-host this year's Bessie Awards ceremony. The 33rd Annual Bessie Awards will be held on Monday, October 9, at 7:30pm, at NYU's Skirball Center for the Performing Arts.
Tickets are now on sale at info here.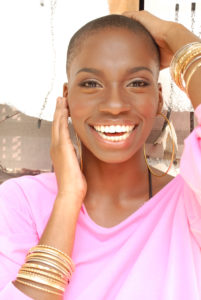 Shernita Anderson. Photo by Montana.

James Whiteside. Photo by Ballet Zaida.
Born and raised in Brooklyn, New York, Shernita Anderson is a dynamic performance artist/entertainer with a career spanning various platforms from live events, to television, to theater and film. Credits include Beyonce, Kanye West, Alicia Keys, Janelle Monae, Kelly Rowland, and Chris Brown. Guest appearances include Glee!, Black Girls Rock!, Saturday Night Live, The Today Show, Good Morning America, Happyish, and Annie. She has worked with numerous choreographers including Bill T. Jones, Luam, Jermaine Browne, Fatima Robinson, Brooke Lipton, Zach Woodlee, and Michael Rooney. With more than ten years of teaching experience, Anderson has taught both nationally and internationally at various studios including the Dance Academy Prague, Street Dance Academy of Slovakia, and Broadway Dance Center and Peridance (NYC). She is also the creator of "The Heels Experience," a nurturing environment to learn and expand on the all-important skill of moving/dancing in heels. Anderson began her training at the Philippa Schuyler Middle School for the Gifted and Talented and went on to attend LaGuardia High School for the Performing Arts and Repertory HS. As mistress of ceremonies, Anderson has hosted the Arthur Ashe Kids Day, Summerstage, Ladies of Hip-Hop Festival, and various dance and live events around New York City.
Born in Fairfield, Connecticut, James Whiteside is a principal dancer with American Ballet Theatre. He joined ABT in 2012 as a soloist and was promoted to a principal one season later. Prior to ABT, he danced with Boston Ballet from 2002 to 2009, moving from the studio company to principal over the seven-year tenure. Throughout his professional career, he has performed the works of Balanchine, Cranko, Kylian, Macmillan, Ratmansky, Tudor, and Tharp, originating roles in Ratmansky's latest ballet, Serenade After Plato's Symposium, and Chamber Symphony for American Ballet Theatre. Whiteside's dance training began at age nine studying jazz at the D'Valda & Sirico Dance Centre and, later, ballet training at the Virginia School of the Arts. Whiteside is also known for his theatrical personas JbDubs, pop-dance artist, and Ühu Betch, part of the hilarious drag posse The Dairy Queens.
Produced in partnership with Dance/NYC, The Bessies recognize exceptional and groundbreaking work in choreography, performance, music composition, and visual design. For a list of 2016−17 Bessie nominees go to: nominees.